Japanese Prime Minister Abe Will Resign


International - POSTED: 2007/09/12 05:55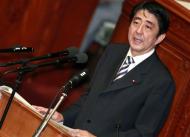 Japanese Prime Minister Shinzo Abe announced Wednesday he will resign, ending a year-old government that has suffered a string of damaging scandals and a humiliating electoral defeat. Abe, whose support rating has fallen to 30 percent, cited the ruling party's defeat in July 29 elections for the upper house of parliament, and said he had instructed party leaders to immediately search for a new premier. "In the present situation it is difficult to push ahead with effective policies that win the support and trust of the public," Abe said in a nationally televised news conference. "I have decided that we need a change in this situation."
Abe, 52, a nationalist who entered office as Japan's youngest postwar premier, did not announce a date for his departure from office.
Word of Abe's resignation comes after his scandal-scarred government lost control of the upper house of parliament to the resurgent opposition. The LDP still controls the more powerful lower house, which chooses the prime minister.
Abe's resignation marks a rapid fall from power for a prime minister who came into office a year ago with ambitious plans to repair frayed relations with Asian neighbors, revise the 1947 pacifist constitution, and bolster Japan's role in international diplomatic and military affairs.
The prime minister, whose grandfather was premier and whose father was a foreign minister, initially met with success in fence-mending trips last autumn to China and South Korea.
But a string of scandals starting late last year quickly eroded support for Abe. Four Cabinet minister were forced to resign over the past nine months, and one — his first agriculture minister — committed suicide over a money scandal.
Abe also was facing a battle in parliament over extension of the country's refueling mission in support of the U.S.-led operation in Afghanistan.
Abe had said he would quit if he failed to win parliamentary passage of legislation extending the Afghan mission, in which Japanese ships refuel coalition vessels in the Indian Ocean.
"I have pondered how Japan should continue its fight against terrorism," Abe said Wednesday. "I now believe we need change. So Japan must continue its fight against terrorism under a new prime minister."
The plenary session of the lower house was to be delayed, media reports said, but an official of the lower house said she could not confirm that.
Opposition lawmakers said it was about time Abe resigned.
"It is irresponsible for him (to quit) after he gave a policy speech and was to face parliament questioning. He should have quit right after the upper house elections," Mizuho Fukushima, head of the opposition Social Democratic Party, told NHK.