Sports agent found guilty in smuggling case


Immigration - POSTED: 2007/04/16 16:45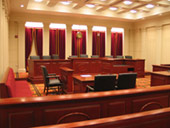 Sports agent Gustavo Dominguez was convicted Thursday of smuggling five Cuban baseball players into the United States. Dominguez, 48, shook his head as the court clerk read each of the verdicts against him: guilty of conspiracy; guilty of smuggling; guilty of transporting; guilty of harboring. In all, the Key West, Fla., jury found him guilty on 21 federal counts. His attorney, J. Stephen Salter, said they would appeal the convictions, most of which carry a maximum penalty of 10 years each in prison.
Dominguez is out on bond until his sentencing hearing July 9. The same jury found Roberto Yosvany, charged with operating the boat, not guilty of the conspiracy and smuggling charges.
The testimony of Ysbel Medina, a convicted drug trafficker, was the main evidence in the government's case against Yosvany. Medina took a plea deal for a lesser sentence in exchange for testifying.
The government had a strong paper trail against Dominguez: The most damaging was $225,000 in wire payments paid to Medina from the bank account of Chicago Cubs catcher Henry Blanco, a major client of Dominguez. Blanco testified that he did not know about the transactions until being called by a grand jury months later.
Dominguez testified that he paid the money only because he received a threatening phone call in July 2004 from Medina, who said he'd harm Dominguez's family if he did not pay the smuggling debt of another of his clients, Yuniesky Betancourt, now a shortstop for the Seattle Mariners.