Supreme Court Limits Anti-Trust Suits


Antitrust - POSTED: 2007/05/22 19:26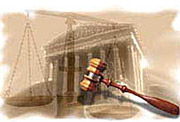 A U.S. Supreme Court decision may make it more difficult to bring anti-trust actions against large corporations. The high court voted 7-2 to dismiss an action accusing the Baby Bell telephone companies - created by an anti-trust judgment that broke up their onetime parent corporation - of agreeing not to compete with one another. In the case at hand, lawyers for class action plaintiffs argued that Verizon Communications Inc., AT&T Inc., and Qwest Communications had agreed not to operate in one another's territories. The court said there was no evidence that had happened.
"There is no reason to infer that the companies had agreed among themselves to do what was only natural anyway," Justice David H. Souter said, in the majority opinion.
Souter and six other justices said the lawsuit did not provide specific evidence but made only a general allegation. The majority determined that the Baby Bells might have made independent decisions not to intrude onto each other's home turf.
Justices Ruth Bader Ginsburg and John Paul Stevens dissented. Stevens warned that dismissing the claim without evaluating the evidence "marks a fundamental - and unjustified - change in the character of pretrial practice."
The plaintiffs alleged that telephone companies had refused to render sufficient assistance to new competitors under expansive regulatory obligations that were imposed by the Federal Communications Commission and later vacated by the courts.
They also alleged that the defendants had refrained from "meaningful," but not total, competition in one another's traditional telephone service territories, based on the theory that such entries were supposedly attractive business opportunities.
"The Supreme Court's decision embraces an important principle about protecting the freedom of firms to make unilateral decisions on what markets to enter or not enter," said Verizon Senior Vice President John Thorne. "Today's decision is the fifth in a series of Supreme Court decisions establishing that firms will not be challenged under antitrust for making independent choices that benefit consumers."