Amgen says court backs one patent claim vs. Roche


Patent Law - POSTED: 2007/08/29 15:33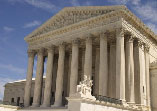 Amgen Inc said on Tuesday a federal court has ruled that a Roche Holding AG product infringes on an Amgen anemia drug patent, and its shares rose 2.5 percent. A trial on other Amgen claims that Roche infringed patents covering its anemia products is set to begin in U.S. Federal District Court in Boston on Sept. 4.
Amgen's anemia franchise, which brought in $6.6 billion in sales last year, has been under siege due to safety concerns and a pullback in coverage by the U.S. agency that oversees Medicare and Medicaid.
Tuesday's ruling was good news for Amgen, but Roche said there was still a long way to go in their dispute.
"While we disagree with the Judge on the matter of infringement, the ruling does not determine the ultimate validity of any Amgen patents," Roche said.
If approved, Roche's Mircera would compete with Amgen's blockbusters Epogen and Aranesp and Johnson & Johnson's (JNJ.N: Quote, Profile, Research) Procrit.
The drugs belong to a class known as erythropoiesis-stimulating agents, which are used to boost red blood cells in anemia patients to help avoid the need for blood transfusions.
Thousand Oaks, California-based Amgen has been fighting the Roche drug on several legal and regulatory fronts, alleging it infringes Amgen patents.
Roche has argued its drug is different, claiming Mircera is longer lasting than other available anemia drugs.