Farm Sues Taco Bell For Libel Over E-Coli Outbreak


Breaking Legal News - POSTED: 2007/03/23 17:11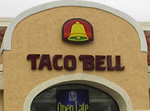 The Southern California farm that grew the green onions that were first linked to and then cleared in last year's E. coli E. coli outbreak has filed a libel lawsuit against Taco Bell Corp. "Taco Bell engaged in an irresponsible and intentional crusade to save its own brand at the expense of an innocent supplier," Thomas Girardi, an attorney for Oxnard-based Boskovich Farms, told the Los Angeles Times.
He declined to specify the loss. The lawsuit seeks unspecified damages.
"We believed green onions may have been the source based on the presumptive positive testing, so we immediately removed them from our products to put public safety first," the statement said. "We later learned they were not the source of the E. coli outbreak."
The lawsuit alleges Taco Bell officials probably knew by Dec. 9 and certainly by Dec. 11 that tests for E. coli in the green onions were negative. The company and FDA officials said Dec. 11 that the green onions were not the source of the disease, and Taco Bell posted a press release Dec. 13 on its Web site that said lettuce appeared to be the most probable source of the outbreak, according to the suit.
Creed also said Taco Bell would no longer include green onions as a food ingredient. The lawsuit noted that lettuce remains in about 70 percent of Taco Bell's food selections.