Supreme Court Justices Wary of Antitrust Law for IPOs


Antitrust - POSTED: 2007/03/28 04:56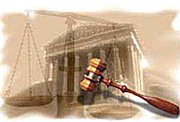 Several Supreme Court justices expressed skepticism Tuesday about eliminating the immunity from U.S. antitrust laws Wall Street investment banks generally enjoy. The Court heard oral arguments in a case stemming from a class action lawsuit by a group of investors seeking damages from 16 securities firms and institutional investors. The investors charged that the banks violated antitrust laws in the late 1990s by conspiring to artificially increase the prices of newly issued shares in almost 900 initial public offerings.
The case has attracted significant attention from Wall Street and corporate America. Allowing such suits would "increase ... the cost of capital for companies offering shares to the public," the Chamber of Commerce and other groups said in a court filing, and could "damage ... the competitiveness of the United States' capital markets."
The investment banks, including Credit Suisse Group and Merrill Lynch & Co. Inc., argue that their IPO methods -- including banding together to spread the risk of underwriting share offerings and discussing potential prices for the shares with interested investors -- are already regulated by the Securities and Exchange Commission.
Applying antitrust laws on top of SEC rules would lead to a "danger of inconsistencies and conflicts," argued Stephen Shapiro, a lawyer representing the banks.