U.S. appellate court overturns state murder conviction


Law Center - POSTED: 2007/12/20 15:06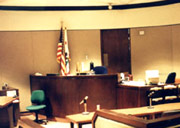 A federal appeals court overturned a Santa Rosa woman's murder conviction Wednesday for killing a man during an attempted carjacking in 1996, saying she had been forced to go to trial with a lawyer she wanted to replace. Nicole Bradley was 18 when she and two juveniles were arrested for the fatal shooting of James Strickler Jr., 19, of Santa Rosa. The court said Bradley had shot Strickler unintentionally, but she was convicted of first-degree murder and sentenced to 35 years to life in prison for a homicide committed in the course of another felony.
Bradley's lawyer quit before the trial, and a Sonoma County judge appointed a replacement in a hearing from which Bradley and her chosen lawyer were excluded. When Bradley sought to dismiss the new lawyer because of conflicts, Superior Court Judge Knoel Owen refused, saying the trial had already been delayed by almost two years and it wasn't clear Bradley could pay for her own lawyer.
In Wednesday's 9-2 ruling granting Bradley a new trial, the Ninth U.S. Circuit Court of Appeals in San Francisco said nearly all the pretrial delays were the results of judges' decisions, not Bradley's.
Noting that Bradley's trial lawyer disagreed with her on a possible plea agreement and on whether she should testify, the court said the trial judge's decision had created an adversary relationship between lawyer and client.
Defense lawyer Dennis Riordan praised the ruling and said a new trial could result in a lesser conviction, for second-degree murder or manslaughter. Deputy Attorney General Gregory Ott, who represented the prosecution, said the court disregarded a federal law that requires federal judges to defer to state court rulings unless they are clearly wrong.